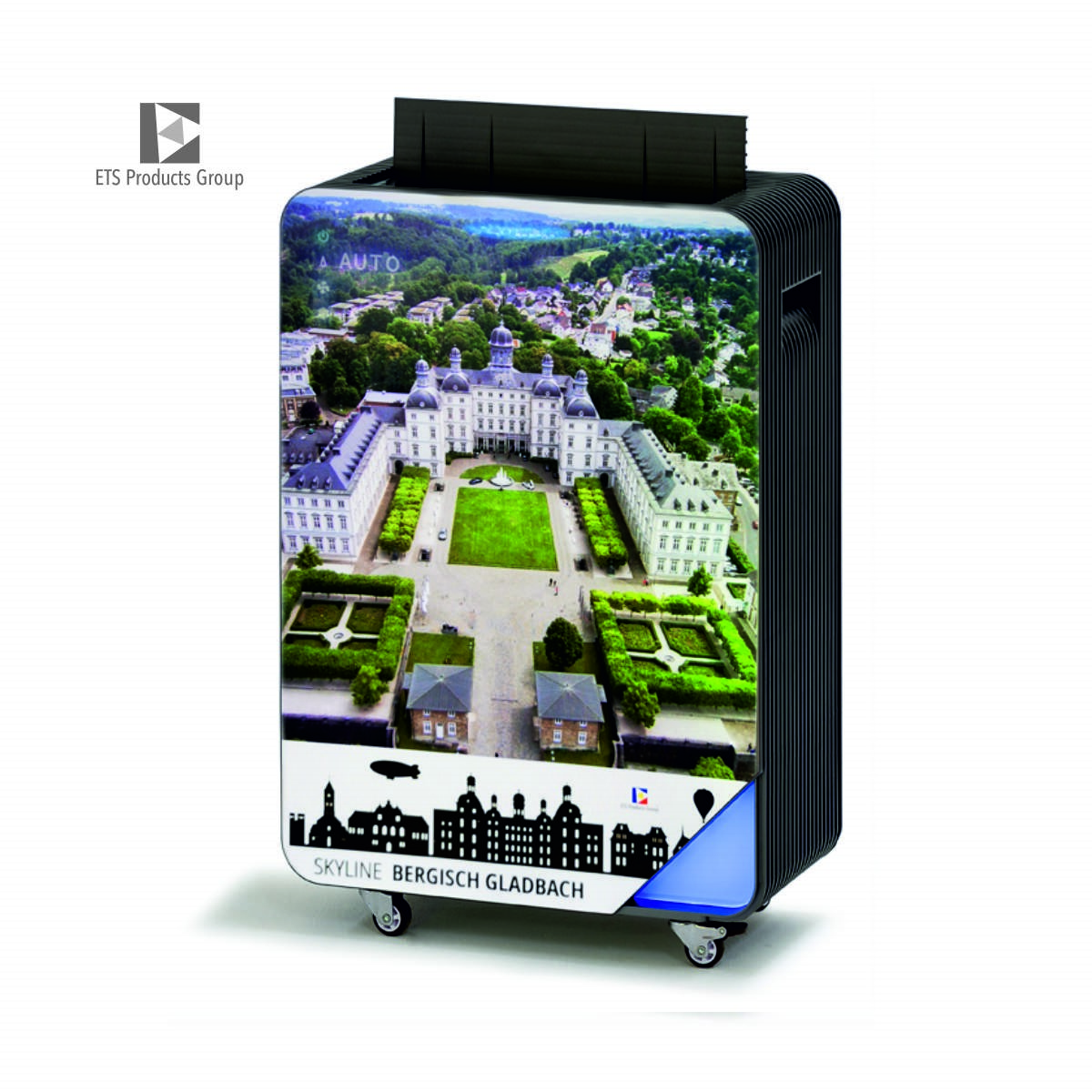 AP-90 V2.0 – Luftreiniger SONDEREDITION Bensberg
Professional air purifier
with full technical equipment Edition Bensberg
PREFILTER ➛ HEPA FILTER ➛ ACTIVATED CARBON FILTER ➛ PLASMA ➛ PHOTOCATALYST AND 2x UV LAMP.
For rooms up to approx. 80m² and a cleaning performance of 720m³/h
description
Additional Information
Reviews (0)
Description
Our all-rounder for every application. The ETS air purifier AP-90 v2.0 standing device is technically fully equipped with
For rooms up to approx. 80m² and a cleaning performance of 720m³/h
The air purification systems are used wherever the quality of the room air is important and pollutants are to be reliably removed. For example:
Business premises, exhibition rooms, seminar rooms, trade fairs, pubs, restaurants, bars (also windowless gastronomy), retirement homes, nursing homes, hospitals, community accommodation, waiting rooms, sports facilities & fitness studios, wellness areas, changing rooms, living rooms and bedrooms.
Technical specifications
AP-90 V2.0
Recommended area
80 m²
Air Volume (Level 4)
720 m³/h
mains voltage
230 V
frequency
50Hz / 60Hz
connection cable
1.8 m / 3.0 m / 4.0 m or desired length (specify when ordering)
connector plug
CEE 7/7 (Schuko plug)
Motor
EC motor (electronic control)
Dimensions
729x490x244mm
Weight
15.8 kg
ambient temperature
5ºC - 40ºC
Relative humidity
< 80%
automatic mode
yes
service
Touch, IR remote control
Air quality display
4-fold color change for TVOC and PM2.5
sensors
TVOC, PM2.5
More functions
Night mode, child lock by remote control
pre-filter
yes
HEPA filter
H13
dust class
H13 - according to DIN EN 1822
H - according to DIN EN 60335-2-69
F7 - according to DIN EN 779:2002
activated carbon filter
yes, honeycomb
UV lamp
yes (254nm)
photocatalyst
yes (TiO2)
plasma
yes
airflow
Inlet at the back / outlet at the top
Replacement interval UV lamp
approx. 8000 h (display)
test reports
CE, ROHS, EMC, SGS official biological and filter function test report
Virus/bacteria test (see test report for details)
Viruses H1N1, H3N2 and bacteria
filter test
PM2.5 / PM0.3
housing
Red / anthracite, plastic
Loudness (measured, 1m)
Step 1:
27dB
Level 2:
31dB
Level 3:
34dB
Level 4:
41dB
Turbo:
48dB
Volume (measured, 3m)
Step 1:
25dB
Level 2:
29dB
Level 3:
31dB
Level 4:
38dB
Turbo:
43dB
Air volume - engine speed
Step 1:
254 m³ - 350 rpm
Level 2:
356 m³ - 442 rpm
Level 3:
603 m³ - 788 rpm
Level 4:
733 m³ - 905 rpm
Turbo:
870 m³ - 978 rpm
Power Consumption:
Standby:
n / A
Step 1:
32 w
Level 2:
36 w
Level 3:
56.5W
Level 4:
92 w
Turbo:
113 w
night mode:
32 w
SGS – Air Purifier Certificates:
GZF20-017834-01 PM0.3
GZF20-017834-02 CADR
GZF20-017834-04 PM2.5
GZF20-017834-05 BACTERIA REMOVAL RATE
GZF20-017834-06 VIRUS REMOVAL RATE
Note:
Technical data determined in laboratories of AW Laboratories.
Air volume measured with new filters. Volumes determined in a normal application environment, different room acoustics due to wall coverings and interior furnishings and different measurement methods used in the industry can affect the measurement result.
Additional Information
Without packaging
| | |
| --- | --- |
| Weight | 18 kg |
| Size | 73×49×24.5cm |
With packaging
Weight
19 kg
Size
82×60×36cm
scope of delivery

System ready for operation
(complete initial assembly of all filters included)
1 air purification system
1 power cord
1 instruction manual
---
Only registered customers who have purchased this product are allowed to leave a review.

-
---
ETS-Products Group - over 1000 positive reviews ineBay
verified
I am completely satisfied
panorama24.europe
November 6, 2022.
verified
Thank you for the pleasant / unproblematic transaction. Excellent buyer. Note 1
nutristar_germany
November 6, 2022.
verified
super ebayer-----thank you very much----I'd love to do it again-----grade 1***
verified
100%!!!
verified
-
verified
Everything is fine, fast and uncomplicated
verified
Everything is fine, gladly again !!!!!
verified
Thank you for the pleasant / unproblematic transaction. Excellent buyer. Note 1
verified
Thank you!
verified
as described, gladly again